Which has me thinking about the kinds of peripheral RHPS experiences I've had to settle for over the last 30 years. I did a little browsing and came across some interesting
RHPS-related artwork, as well as a download of the original movie trading cards. Enjoy!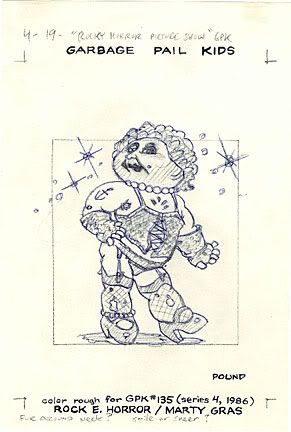 ABOVE: The original pencil drawing, painted sketch and final proof for the Rock E. Horror card (also reprinted as Marty Gras) for the Garbage Pail Kids series. The art was by John Pound who, I think, did a little work for Marvel on the Howard the Duck magazine in the early 1980s. All roads lead to Howard the Duck.
The art above shows the process used to create this one card. Click them for a closer look.
Australian artist Ken Taylor created two A-W-E-S-O-M-E posters for the Alamo Drafthouse's screening of The Rocky Horror Picture Show. Whenever I see this art I reflexively pump my fist in the air and make the "devil horns" thing with my fingers.
They were available for sale online as prints but appear to be no longer available.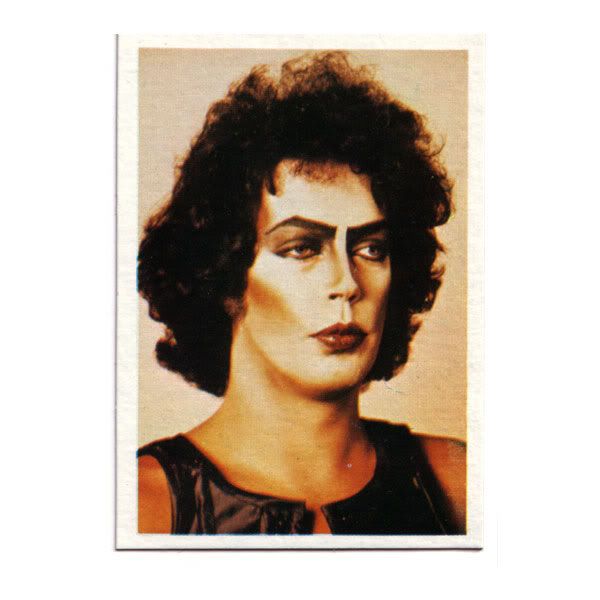 The Rocky Horror Picture Show is rather famous for taking its time to find an audience. When it did, though, it received a few collectibles more in line with a Star Wars film than an R-rated midnight movie. Among there was a set of trading cards in 1980, which someone named Red Spy scanned and uploaded for your pleasure.
Lastly, RHPS also got a movie magazine modeled on the kind made for Alien, The Empire Strikes Back and others. I couldn't find any scans of the magazine's interior, though.