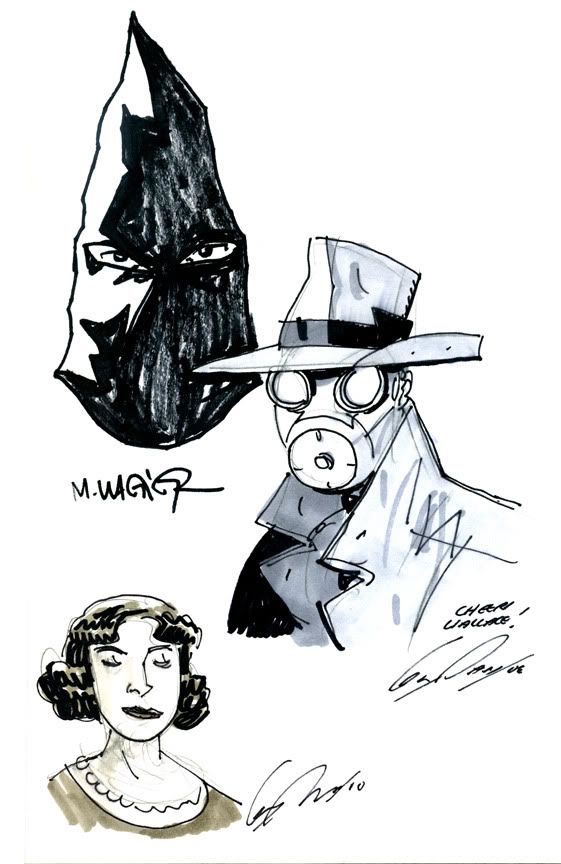 One of the highlights of last weekend's
HeroesCon
in Charlotte, N.C., was meeting Guy Davis. While it's easy for a lot of artists to get jaded with their fans (Brian Bolland spent most of Sunday hiding behind signs warning fans that he wasn't in the mood to autograph comics*) the times I've met Davis I found him warm and talkative.
A little background on this sketch: I've been going back and forth between Davis and Matt Wagner on a single 8X10 page as they've taken turns drawing characters from
Sandman Mystery Theater
. Davis was first, followed by Wagner — who drew The Tarantula, the villain from the first story arc.
On Sunday, Davis contributed the third sketch to my "tag team" page of art, which you can see above (
I mentioned the original here a few months ago
.) After racking my brain last week over which character to ask him to draw, it finally occurred to me that Dian Belmont was the best choice. I don't know who will be next, but Davis has put the ball back in Matt Wagner's court.
(* I thought it worth noting that I respected Bolland's rather public display of privacy and didn't pester him. It's very likely he's neither jaded nor callous and simply had work to do. It's just frustrating to attend a convention and find one of the guests you were anxious to meet to be consistently unavailable. For example, I've attended a number of HeroesCon events where Bill Sienkiewicz was a guest and have yet to even lay eyes on the man.)