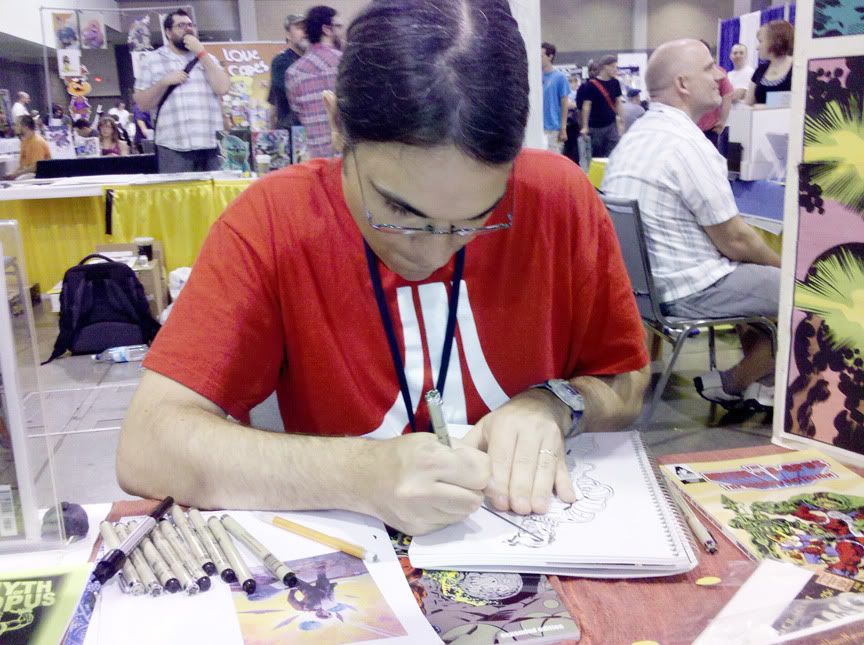 I didn't have many plans for the HeroesCon in Charlotte, N.C., last weekend. I knew I wanted to ask Guy Davis to add a sketch to my
Sandman Mystery Theater
page, but I also wanted to commission a sketch of Dune's Paul Atreides/Muad'Dib from Tom Scioli.
Scioli is the artist on
Godland
, which is an homage to Jack Kirby's bronze age "big ideas" books. If you haven't read it, check it out ... it's a blast. (He also has a creator-owned property called The Myth of 8-Opus which
you can read about here
.)
After getting a small pencil sketch of
Omega the Unknown
from Scioli last year, it occurred to me that his Kirby-drenched style would be an interesting match with Dune. I caught him with a free hour on Sunday and he drew the image you see above, which is based on designs from the David Lynch movie. To your left is a photo of him working on the piece.